I'm not sure if this is even allowed--a 2nd entry for the week, but I couldn't resist because this is so appropriate for the entry!
I've been saving this
clip
for almost a year now just to see if it comes true.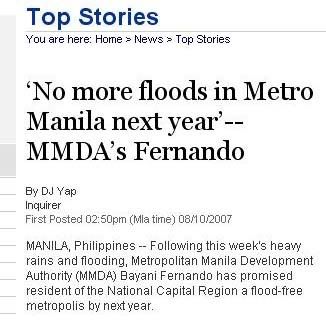 Wow! Ain't that something right? He will end flooding in Manila for good! Yay
Bayani
! If he pulls this off, this will be an accomplishment of historic proportions! A herculean effort to say the least. Just think of the cost this will save the government. I imagine a quarter of the traffic problems during the rainy season being eliminated, not to mention the perennial evacuation of people from areas that return to the sea during this time.
No more bringing of slippers to work just in case you need to wade through flooded streets. No more worrying about leaving your car stranded in the middle of the road, or accidentally being swallowed by an open manhole.
Needless to say, I wasn't optimistic. So when June rolled in, I started keeping my eyes open for any signs of flooding. Now I'm not going to be petty about this. I won't complain about little puddles or even big ones as long as it doesn't stay there for more than a day. I'm giving Bayani a fair chance. This is why I haven't really posted anything about this yet.
Then in comes
Typhoon Frank
...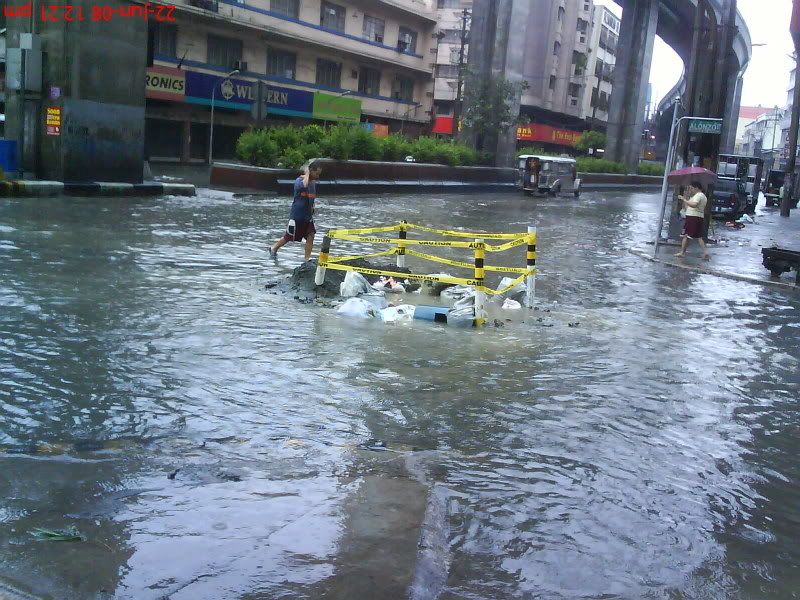 This is a photograph taken earlier today courtesy of my sister. That photo is of a main thoroughfare just a few blocks from home--submerged in at least a foot deep of flood water. Not only that, half the main roads I passed by today are either partially flooded or virtually impassable. And most of the small alleys I saw were ankle deep or higher.
I did a little more digging and found that he actually
promised
the same thing in 2006. Tsk. Sorry Bayani, better luck next year. Though maybe you ought to speed things up a bit or you might just miss out on that
presidential nomination
you were hoping for.
PhotoHunt